"We are a community of people who are invested in generating
positivity and enthusiasm for the Art's in Adelaide"
An American and an Aussie walk into a Church...
January 27, 2018
Matthew Erdely
Music Gig Review
SONiA (Disappear Fear) took to the stage and showed every bit of why she was the headline act. SONiA is a singer/song-writer from Baltimore, Maryland, the setting for the excellent TV Show The Wire. SONiA continued where Zac Eden left of and intricately wove a set full of meaning, heart and passion. Her songs, music and sheer presence held the audience in total captivation. It was clear that each song held personal significance. Theme and lyrics came across as mission statements that we all could and should live by.
Video: SONiA (Disappear Fear) live at Trinity Session. Credit to Arty Records for the footage
SONiA could not be faulted in anyway, she was rather faultless. The brilliant acoustics were such that you could just swear that the chords lingered in the air, each crisply played. In actual fact the skill with which the guitar was played was a mere after thought. SONiA's most endearing quality was her ability to paint a picture with wit, humour and humility. She created a context for her songs that allowed her fans to imagine that they themselves were going on a journey and the subject of the songs. When delving into the world of politically influenced song writing, the importance of connecting with your audience can't be understated. SONiA was a master at this!
Picture: SONiA (Disappear Fear) at Trinity Sessions
People, at the Trinity, were content to just sit and process what they had just experienced, almost with an element of awe and shock. I was half expecting an emergency medical response team to burst through the doors and take us all to hospital for observation! However, this wasn't to be the end. SONiA felt inspired to unplug her guitar and lead us in a sing along version of 'Imagine' by John Lennon. It was the perfect finish and one of those musical memories that I will treasure for as long as I remember it! Check out my sneaky footage below...

SONiA disappear fear

Wauchope Arts and Mid North Coast Refugee Support Group will host a very special concert this month, to raise funds for Sanctuary Australia's Refugee Support Programs. Baltimore based singer-songwriter SONiA diappear fear (Sonia Rutstein) and local performer Helen Mottee will present a show to remember… We chat to both Sonia and Krissa Wilkinson from Wauchope Arts ahead of the December 8 performance…
KRISSA
Hi Krissa. What's the aim of the show on December 8, featuring SONiA disappear fear and Helen Mottee – where will funds raised go?
Historically, music has successfully shaped the world, raising awareness during campaigns for civil rights, social justice, women's rights and peace.
Sonia Rutstein and local support artist Helen Mottee use their musical talents as singer songwriters to raise concerns about injustice, human rights and the plight of refugees.
Helen is a much-loved local performer, who pens heartfelt tunes that she will play on the grand piano. Some say she is our local Carol King!
The aim of this event is to cultivate compassion and encourage generosity. This event is a fundraiser for Sanctuary Australia's Refugee Support Programs.
Like the influx of people after WWII and the holocaust, or people fleeing Vietnam after the war, refugees who manage to settle in Australia face many hardships and are dependent on the kindness of strangers.
You'll have additional offerings on the night, including a raffle. What are the refreshment arrangements, and what prizes can people win?
A light dinner will be for sale from 6:30pm for $10. There will be an array of delicious home cooked vegetarian food, much of it harvested from local organic gardens.
The raffle includes beautiful original prints by designer Annie Georgeson, hand woven and handmade items, including some beautiful ceramic bowls, as well as organic produce.
How much are tickets, and where can they be purchased?
Tickets can be purchased at the door from 6:30pm or online at  http://www.trybooking.com/SPJI – $25, or $20 for Arts Council and refugee group members.
Thanks Krissa.
SONIA
Hi Sonia. Introduce us to SONiA disappear fear, which has undergone a few changes since its inception…
The basic spine and soul of disappear fear has always been me and my Santa Cruz guitar. My sister, CiNDY, and I created the band disappear fear and at its inception we were a duo in October of 1987 – and then we worked with different members, depending on my writing and our dating habits. The first band was a marimba percussionist and cellist. Next was a basic rock formation.
Currently I work with bassist Christopher Sellman, who I've performed and recorded with off and on for 20 years and percussionist Ezell Jones Jr.
Originally we were heavy into sisterhood harmonies, so when CiNDY left, I had to really focus on great songwriting to stay alive and engaging.
The songs you write reflect issues of today …  issues you're obviously very passionate about. What are some of the key messages you hope to convey with your music?
Every choice we make has a price of defining our future; hence by definition, "free will". Before doing music full-time, I worked at a Rape Crisis Centre. I was acutely aware of self empowerment after an assault. This can apply, as does the essence of the idea of disappearing fear to many situations that we might feel powerless in, so I hope my songs inspire people to find their own courage and live in the moment and to love out loud.
Of course, this transpires into political realms as well as religious, sexual, stereotypes and scientific applications.
You buck the trend by performing in places/venues other performers would shun. For you personally, what's been one of your more memorable performances?
One concert I loved was at a V.A hospital near Austin, Texas, on Memorial Day. There was an old soldier who'd been badly wounded in Vietnam – in a wheelchair – who at the end of my song actually stood up to give me a personal and extremely difficult standing ovation.
Another wonderful experience was at concert I did in a bomb shelter in Israel during the second antifada – it was very powerful and especially memorable, because we never knew who would live or what would happen next.
But the most amazing experience I can think of was for this 10 year child in Massachusetts near Boston – she had extreme cerebral palsy. She was in love and very familiar with my singing voice. When I started to sing her favourite song, she went absolutely ecstatic. I've never seen so much joy bursting out of a human being like that – ever. It was all encompassing in loveliness.
When you perform in Wauchope on December 8, who'll be supporting you – both on stage and behind the scenes?
I travel with my manager, who lucky for me is also my wife.
What are your thoughts ahead of travelling "down under"… Have you visited here before?
Yes, I have toured in Oz before. I've played the Woodford Folk Festival about four times, also the Illawarra festival, Cygnet and Mardi Gras. My last tour in 2009 I played the Sydney Opera House, State Theatre in Canberra, Adelaide, Brisbane and Melbourne. I have shared the stage with Kristina Olsen, Kristy Apps, George, the Waifs, Blue House, Fred Smith, Aurora Jane, Ember Swift, and many other great performers.
When you have the chance to wind down from your Australian experience, what are your plans?
This time I hope to hit the waves at Noosa and also venture out to Uluru (Ayers Rock) and maybe get to snorkel again at the Great Barrier Reef – but must importantly, reconnect with my Aussie mates.
Thanks Sonia.
Photos by Lea Morales.
SONiA to play Wauchope Arts
on December 8 in refugee fundraiser
3 Dec 2017, noon
Don't miss Baltimore singer/songwriter SONiA at Wauchope Arts on Friday December 8 in a concert fundraiser for Sanctuary Australia's refugee support programs.
Helen Mottee is the local support artist at the event, organised jointly by Wauchope Arts Council and the Mid Coast Refugee Support Group.
Light dinner, supper and drinks for sale from 6.30pm plus a huge raffle with great prizes.
This will not be the first time SONiA has used her musical talents to benefit others. She frequently performs her powerful songs of passion and hope at events that challenge injustice, and was awarded the Coin Of Honor from a joint coalition of United States military for her humanitarian efforts.
Earlier this year she organised a relief concert in Texas to raise hearts and money for the victims of Hurricane Harvey. As a musician, SONiA has received the GLAMA (Gay and Lesbian Music Awards) for Female Artist of the year, and a nomination for Best Live Album by the Independent Music Awards (USA).
Her 17 award-winning CDs include songs written in Spanish, Hebrew, Arabic, German and in multiple genres, from blues to middle eastern, folk to country and western. Since 1994, when she and her sister Cindy Frank formed the indie-folk duo "disappear fear", SONiA has released albums as a group member and even more as a solo artist, selling over a million units.
Her music is a vivid celebration of the human spirit, and according to Don Kening from the Chicago Daily Herald, "has a singular sound that makes labeling and categorizing a waste of time."
Although SONiA spends a large portion of her time in Europe, every few years she comes back to tour Australia and New Zealand, which she enjoys very much.
From the Opera House in Sydney, to the bomb shelters of the Middle East, SONiA has shared the stage with many of her heroes including Bruce Springsteen, Peter, Paul and Mary, Green Day, John Fullbright and Sheryl Crow.
The Mid North Coast Refugee Support Group chose to fundraise for Sanctuary Australia Foundation as a means of supporting a community-based organisation that provides valuable services to refugees seeking to resettle to Australia.
Tickets for the December 8 fundraiser cost $25 and are available online at trybooking.com/SPJI or at the door. A light meal, drinks and treats will be available for purchase from 6.30pm, with music from 8pm. For more information about Sanctuary Australia Foundation, go to www.sanctuaryaustraliafoundation.org.au
The story Wauchope concert by SONiA will help refugees in Australia first appeared on Port Macquarie News.
  

Have no fear at Jacob's Ladder 
  
Audiences will have nothing to be afraid of when SONiA Rutstein and her Disappear Fear band take the stage at this weekend's fun-filled annual country, folk and rock festival at Kibbutz Ginosaur.
CULTURE 
By BARRY DAVIS 
05/14/2015 10:38
SONiA Rutstein. (photo credit: Courtesy) 

SONiA Rutstein was clearly way ahead of her time. Long before it was considered sexy – by marketing executives and PR dudes – to mix upper case and lower case letters in the names of, for example, new software or even companies, the American musician had an instinctive feel for the then highly conventional blend of graphic scale. 
"That is how I spelled my name before I knew how to write," states the 56-year-old US singer-songwriter, who is on this weekend's annual Jacob's Ladder Festival roster taking place at Kibbutz Ginosaur. 
There are other hindsight benefits to the script synthesis. 
"It stands out as a logo," Rutstein continues, adding that it also helps to keep her on an even keel. "I like the small 'i,' it is good for balancing [my] ego." Fair enough. 
In fact, Rutstein, if she were so disposed, has plenty of grounds for blowing her own trumpet. She has been globetrotting with great success for over 30 years now, performing material from her extensive discography in various languages, including Hebrew and Arabic, together with her Disappear Fear band. 
The group's moniker also conjures up an important associative message. "The idea for the name came up after the band had started," explains Rutstein. "It was a good empowering idea for different situations in life. It just seemed to grow naturally. The thought process was that when you do that, you can be with people." 
That is an admirable goal, which Rutstein spelled out in a song, called "Tango," which she wrote in 1989. The lyrics include the following heartwarming lines: "The world is ready to disappear fear. A world that is not afraid of itself or who it loves. A world that is ending hunger in every form that hunger exists – no one is left out." Amen to that. 
Rutstein is clearly keen on getting messages of unity, love and peace out there, and she does so across a broad spectrum of musical styles and genres. The folkie strand is central to her oeuvre, but there are some grungier elements in there too, in addition to an ethnic spread. The "disappear fear" pairing originally featured in a more rock-oriented number on 1999 album Me Too, called "Opinion # 33." 
"That's a sort of hip hop song, which I wrote out of a bass line, it's kind of funky." 
Disappear Fear is certainly a funky catchphrase, although Rutstein doesn't want us to get too lost in that. "People like it, but I think that some people don't even realize that Disappear Fear is a band name, and not just an idea. That's good too, but I'd like people to hear the music too." 
Rutstein gained a rich and diverse musical education in her formative years. "I grew up with a lot of classical music, and I loved Broadway musicals and opera too," she recalls. Some of her early influences passed through a parental prism. 
"My dad loved jazz, people like [guitarist] Wes Montgomery but also [legendary 20th century Spanish classical guitarist Andrés] Segovia. So I got a lot of different stuff as a kid, plus I went to Hebrew school and my Aunt Shoshana and I did a lot of Hebrew songs together, and I went to camp where we sang Hebrew songs, and we did folk dancing too. There was lots of music." 
Growing up in the late Sixties, Rutstein also naturally imbibed the beat and melodies of the Fab Four, but also songs from closer to home. "Living in Baltimore, we got a lot of [soul record label] Motown stuff – a lot of Diana Ross, the Temptations, Dionne Warwick and all of that stuff, which was big back then." 
The maternal side of the family pulled the youngster to the crooner side of the market, while the parental confluence led to more folk-based acoustic fare. "My mother liked people like Frank Sinatra and Perry Como," says Rutstein. "But, I guess, my parents meant musically with things like The Kingston Trio and [folk singer] Odetta." 
Both of the latter were instrumental in fueling the folk music revival of the late Fifties and early Sixties, while Odetta was active in the Civil Rights movement. "I got to see Odetta when I was very young, when she appeared with the Baltimore Symphony. "I also got to see [iconic jazz trumpeter- vocalist] Louis Armstrong." 
Thankfully, Rutstein not only admired some of her childhood idols from afar, she also got to gig with one of the legends of the folk community, banjo player-singer, civil rights activist and environmentalist Pete Seeger, who passed away last year at the age of 94. 
"We played together at the Clearwater Revival Folk Festival which was a festival Pete started. He was amazing. A very sweet soul," says Rutstein. 
Rutstein started out on her own musical path at the age of 13, when she first picked up a guitar and started putting poems she found to music. When she mustered the courage to try out her own lyrics, she initially got little encouragement from her peers. 
"My friends would laugh at the songs I wrote myself," she recalls. That early rejection led her to place more faith in something which wouldn't make fun of her. "My guitar became my best friend. I could tell it anything and it wouldn't let the secret go. Me and my guitar spent a lot of time together, and we got really close. I was able to say things I really wanted to say, with my voice." 
Things got more serious when, at the age of 19, Rutstein received a sisterly boost. Her parents had gotten divorced and she had dropped out of school and didn't know which way to head, until her younger sister, Cindy, suggested becoming a professional musician. 
"She said my songs were really great and that was what I should do," says Rutstein. And the rest is history. 
The Disappear Fear discography now numbers 17, and Rutstein says she is proud of her work to date. 
"I can listen to my first CD and not cringe," she notes. "I think that is great. I may or may not do the music differently today but I like what I was saying back then." 
Thousands of fans across the globe and, no doubt, at Jacob's Ladder this weekend, would go along with that. 
Elsewhere on the Jacob's Ladder roster there are plenty of familiar names and sounds. Festival veteran singer-songwriter Diane Kaplan will team up with longtime cohort vocalist, flutist and percussionist Dana Keren – with Kaplan's singer son Edan putting in a guest appearance – for a program of Beatles, Dylan and Carole King covers, plus some originals, while the ever-popular Larry & Mindy duo will proffer an acoustic folk rock show. Dynamic vocalist Libi will team up with her Flashback Trio for a no doubt high-energy show of country, folk and blues music, while folk and country music stalwart Lynn Lewis will be joined by a bunch of pals for his May 16 slot.  
Jacob's Ladder wouldn't be the same without guitarist-harmonica player Shai Tochner, and his sometime singing partner Maya Johanna-Menachem is also in the festival mix. One of the offshore headliners is the Abrams Brothers bluegrass rock outfit from Canada, while the European contingent features Berlin-based virtuoso violinist Alexey Kochetkov and the German-Israeli Aletchko quartet. 
For more information about the Jacob's Ladder Festival: (04) 685-0403 and    http://jlfestival.com. 
  
The Jerusalem Post annual NY conference- save your seat now with early bird tickets 
  
http://www.jpost.com/Israel-News/Culture/Have-no-fear-at-Jacobs-Ladder-403003
North Texas's LGBT community steps up to aid hurricane victims
DAVID TAFFET | Senior Staff Writer
taffet@dallasvoice.com 
Benefit concert
Poor David's Pub is holding a 12-hour benefit concert for flood victims on Sat., Sept 2, from noon to midnight.
Lesbian singer-songwriter SONiA will be among the performers. She and her band were scheduled to perform at the Kerrville Folk Festival, which was canceled because of the hurricane.
"My sister Cindy was flying in from Seattle, and my Baltimore band mates too, so I was really initially disappointed. But then I thought we can help — it's what we do," she said.
Before coming to Dallas, she organized a benefit concert in Baltimore.
SONiA is scheduled to go on stage at Poor David's at 7:55 p.m. and play a 25-minute set. A number of others who were scheduled to perform in Kerrville will be in Dallas for the benefit including Sam Baker and Grace Pettis.
Sonia & Disappear Fear Brings 'Eighth Wonder of the World' to Baltimore
Written by Frankie Kujawa
Friday, June 23, 2017
Sonia photo: Lea Morales
The soulful music of Sonia & Disappear Fear is set to captivate audiences at Baldwin's Station this Pride month. Performing in the historic town of Sykesville, Sonia's music wil
l enchant listeners on Thursday, June 22nd at 8 p.m. "Audiences will be able to really celebrate June Pride at this performance" explained Sonia Rutstein, who performs under the moniker Sonia Disappear Fear. The Baltimore born and raised singer/songwriter has been making music for nearly 30 years. She has toured the world with 18 award-winning albums delivering powerful songs that challenge injustice, while performing with passion and hope. She's gained a devoted and growing fan base in over 20 countries.
"I call the kind of music I do 'Global Americana.' I'm singing Americana from my perspective and the issues that affect my culture. However, I have a lot of different means to get there. I sing a lot of different genres from pure rock, pure blues into Reggae, Latin, Middle Eastern, or even Country music. I go to a variety of styles in which to write."
Even though she circles the globe with her music, Sonia still calls Baltimore home. "Besides being born and raised here, we started Disappear Fear in Baltimore. Baltimore was such a geographically desirable location because we are within 300 miles of 80% of the population of the U.S. This is where a lot of people are. That's just smart business, but even beyond that this city really feels like home to me."
Sonia notes that her roots run deep in Baltimore. "My closest Disappear Fear family are here, and I love Baltimore traditions. I love beer and crabs and the quirkiness of Baltimore. It's a weird place which is great, because I feel that we're all a little weird here, and it's a good thing. My deepest roots are here. My name Rutstein means 'root stone' – and I have my deepest roots here. I'm connected to the Jewish and gay communities here, as well." Sonia added that the mix of people is what gives Baltimore it's flavor. "Culturally, we grab on to each other and we've been able to maintain some really good traditions that may be lost by assimilation of living in another place. We have really maintained that and there are so many ethnic groups here."
Sonia & Disappear Fear's performance at Baldwin Station will be a celebration of Pride. "I've been out in my music for my entire career. I was out before Melissa [Etheridge] came out, and before Indigo came out. Before my colleagues came out, I came out. That was over 20 years ago and that's old news. But I guess my thing is that Disappear Fear – the name of my band – is something that represents me. I've done a lot of work to make it okay for people who are discovering themselves to be proud of themselves and not be ashamed of who they are. The LGBT community has always been embracing of my music."
To Sonia's, music is transcendent among all people "Music is a special gift that can transform any situation and we're blessed to have it. It's the eighth wonder of the world."
For more info, it's Soniadisappearfear.com.
CENTRE DAILY TIMES
SONiA will perform on Saturday at the Center for Well Being in Lemont. Helen Hausmann Photo provided
WEEKENDER
SONiA leads fall Acoustic Brew Concerts series
BY JOHN MARSH
For the CDT
SEPTEMBER 22, 2017 11:34 AM
The fall season of the Acoustic Brew Concerts series will kick off Saturday when SONiA disappear fear performs at the Center for Well Being in Lemont.
SONiA, a folk singer from Maryland, has a canon of 17 albums encompass folk, blues, world music and everything in between.
"Well, I think the good ones they call magic shows," Evans said. "It's me with my Santa Cruz guitar, my Parker fly guitar, some harmonicas and a piano if they have one."
Acoustic Brew board member Jim Colbert, who booked the show, said he's been familiar with SONiA's music for a number of years.
"A fellow board member and I saw her perform at a now-defunct festival in Maryland and I saw her again in upstate New York," he said. "But last October, she was one of the featured performers and teaching artists at the Folk Project Fall Getaway, a folk-oriented weekend in New Jersey. I was just enamored of her passion, her sincerity, her heart."
Her latest album is a double-disc record, "Live at Maxima." It was created during a sold-out 2014 concert in Rodgau, Germany.
"It was pumping, it was real, it was sweaty, it was fun," she said. "It was like throwing paint up into the air and watching it fall and hit the canvas, forming perfect portraits and landscapes as if I had meticulously sculpted every split second of each worded sound. I just sang my songs and played my guitar and the whole room was in love."
SONiA has traversed the globe playing her music for the masses. She plans on playing some new material at Acoustic Brew.
"I've been on tour across North America, the UK and Europe, Australia, New Zealand and Israel for most of the past 30 years," she said. "Currently, I'm working on songs for a new CD, so I will be debuting some here at this show."
SONiA believes in the unifying power of music, and she thinks this upcoming show at Acoustic Brew will be another memorable experience for all who attend.
"Together we can touch heaven," she said. "In a dark room full of strangers, we become one completely alone and together."
Colbert, who has been involved with Acoustic Brew for almost 14 years, thinks these kind of intimate shows are not only beneficial but also necessary. The shows are special in that they remove the physical and metaphorical barriers between performer and audience.
"When you come to a Brew show, you experience a true sense of community, of people working together for a common goal, sharing music in its most pure and distilled sense," he said. "For most of our shows, there is basically nothing between the performer and the audience. It's organic, it's real, and I think in some small way, we're putting a little bit of beauty, love and fellowship back out into the universe."
Other Acoustic Brew Concerts this season are Ramblin' Dan Stevens on Oct. 14, Maeve Gilchrist and Keith Murphy on Nov. 4 and The Early Mays on Dec. 9.
IF YOU GO
What: Acoustic Brew Concerts: SONiA

When: 7:30 p.m. Saturday

Where: Center For Well Being, 123 Mount Nittany Road, Lemont

Info: www.acousticbrew .org
The Journal of Roots Music

Global Americana with
disappear fear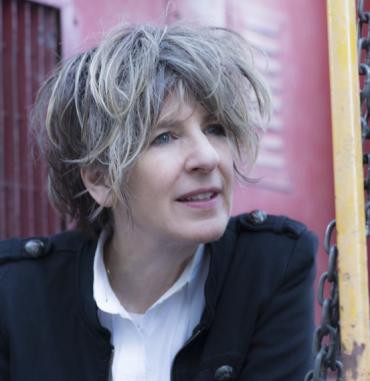 SONiA by Lea Morales
March 17, 2017
The original Disappear Fear band (stylized as disappear fear) formed 30 years ago and consisted of sisters Sonia Rutstein (aka SONiA) and Cindy Frank (aka CiNDY). SONiA has continued, performing and recording solo with the latest version of disappear fear.
Bill Frater: What got you started in the music business and when and why?
SONiA: When I was 15 years old I got paid $1.40 an hour to make pizza and ice cream sundaes and fill ketchup bottles. That spring I got booked to perform at a Purim holiday concert for what turned out to be three songs in ten minutes and I was paid $50. The choice to earn a living making music was obvious, and it was amazing to me that I could be paid for what I love to do. Not that making pizza doesn't rock, just not as much.
What have you done since then?
We have released 18 full-length albums on Rounder Records and my own label, disappear records. I have toured in 20 countries and received many awards, including the Spirit of Folk Music Award 2017, a Coin of Honor from the United States Military for Humanitarian Efforts, GLAAD Album of the Year and Female Artist of the Year. I have shared the stage with many of my heroes, including Bruce Springsteen, John Prine, Arlo Guthrie, Chris Thile, Pete Seeger, and Billy Bragg. I am member of the Recording Academy and have many times over been in the first round of voting.
What do you do now and how do you describe your business?
I'm an international touring singer-songwriter. My job is to open people's hearts so that the sky can come through day or night.
How do you describe your music to someone who's never heard you?
I write global Americana, or we sometimes call it gangsta folk.
What was the first artist or album that got you into music?
I listened when I was quite young to the Limelighters, Odetta, Louie Armstrong, Peter Paul and Mary, and Frank Sinatra. I also listened to a lot of jazz like Wes Montgomery and Charlie Byrd from my dad; and a lot of classical music, Broadway musicals, and operas from my mom. My brother turned me on to Cat Stevens, Simon and Garfunkel, early Billy Joel, early Elton John, and Joni Mitchell. The first single I ever bought with my allowance money was Kentucky Rain by Elvis Presley. The first live concert I ever saw when the song I heard on the radio came to life right in front of me was "Hello Dolly" performed at the Flower Mart in Baltimore, Maryland, when I was 5 years old. I also remember loving "Big Rock Candy Mountain":,"Oh the buzzing of the bees and the cigarette trees the soda water fountains" ... I still do.
Who are your favorite artists from any genre?
I think Bruce Springsteen and James Taylor define Americana music for me. I love the technique of Lulo Reinhardt. I especially love the words of Phil Ochs and John Prine. I love Bernstein, Armstrong, Mitchell, and Wonder, to name a few. I like the textures of Ramy Essam and Idan Raichel. I love the voices of Andrea Bocelli, Mindy Smith, and Bob Marley and the passion of the Gypsy Kings. I would love to be to music what Charlie Chaplin is to movies and what Van Gogh is to art.
Where do you see Americana radio going in the future?
I hope Americana Radio can continue to be fueled by great artists and great songs but with more variety. Americana is like America – a melting pot of many immigrants – and the music programmers hopefully will make more open choices in the future because there is an endless exciting magnitude of rhythms and languages. This is what Americana music means to me.
What recent albums or artists are you excited about?
I'm really enjoying the Folk Alliance International CD 2017, Korby Lenker, Mari Black. And I love pretty much every song by John Fullbright and his buddy Wink from Oklahoma, especially live in concert. I like the new Bon Iver and Cage the Elephant, but I go back and listen to older stuff like Benny Mardones and James Taylor and early Patti Smith, Patty Griffin, and Mary Gauthier.
What are your most memorable experiences from working in the music industry?
There are several stand-out moments to me tonight:
One indelible memory is of a concert I did during the second Lebanon War in a miklat – a bomb shelter – in the Misgav in northern Israel. I can still see every face that was there.
Another strong memory of a concert was at Camp Sister Spirit Music Festival in Hattiesburg, Mississippi, when homophobic angry men were shooting at us for being there and being queer.
And lastly I remember asking my sister and the merch people to not set up our cassettes and albums within my performance site. I had to really work on getting over the fact that I couldn't just give everything away for free and we that had to sell the stuff.
I performed in Kansas City at Folk Alliance International a few weeks ago. It was a great event, very memorable, but I was reminded of the first time I shared the bill with Ani DiFranco. It was a club in Pittsburgh, a fan was talking to me really loudly during Ani's set and I felt so bad, but I was with the band and we had, of course, another long ride to another faraway concert and I never got to apologize. Still haunts me.
I remember getting a Best Album award from k.d. lang at the Manhattan Club in NYC and meeting her for the first time on stage as I was accepting the award that I think she thought would go to her girlfriend and not me. There was an awkward pause and then she was just the biggest flirt. I was all sorts of embarrassed but it was great moment.
And my favorite memory of singing it up with Pete Seeger was at the Clear Water Festival. All the performers were on the stage with the Hudson River on our left and the sun in our faces and looking out and seeing this amazing golden glow across the outdoor tent. It was so dynamic to have those words that I sang so many many times to his records and then to live into that exact vision – to tell my rainbow race it's too soon to die...
What inspires you or what keeps you going?
What keeps me going is the possibility of writing the best song that could ever be written and my beautiful wife. And the amazing transformation that happens in a live concert, the connection, the love on the edge of time.
How do you want to be remembered?
When my name comes up I hope people will say, "She made this world a little bit better – she made me laugh, she made me dance, she made me cry, she made me try to be better by being happy with myself or knowing what to change, she was inspiring and she never made me eat baked beans.
But my favorite epitaph is Ruth Gordon's:  "Other than this, things went pretty well." 
Lawrence Kansas Interview
The Jewish TImes Interview