"Quirky and smart, a poet with a guitar, SONiA is a master of crafting songs that make you simultaneously want to dance, sing and change the world." 
Georgia Voice, USA
Kalyna, Ukrainian anthem and peace songs
The Idstein bookstore and the city of Oestrich-Winkel invited to a benefit concert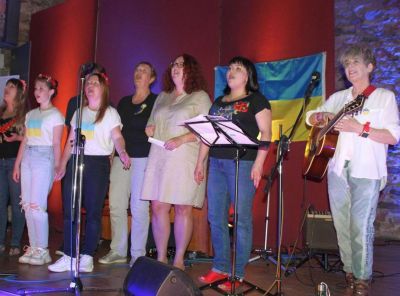 Winkel. (sf) - She looks small and petite like a child when she comes on stage in skinny jeans and brown leather boots. But with a bright smile and a voice that gives you goosebumps, Sonia Rutstein has a stage presence that rivals her famous cousin Bob Dylan. At least that's what the guests of honor at the benefit concert in the Brentano barn felt: the singer sang and played for more than 100 women and children who had fled from the Ukraine, their caregivers in their new home country and supporters of the war refugees, and also made music with the refugees and guests.
Sonia Rutstein has just made a guest appearance in Oestrich as part of a bookshop session: the Idstein bookstore is in close contact with the artist and has had her as a guest for the fifth time. When she learned from Conny Prinz and Markus Idstein that the couple was committed to taking in Ukrainian refugees and providing children with Ukrainian and bilingual storybooks, she was immediately "on fire" to support the cause. Initially, the singer planned to collect crayons and coloring books in order to bring them to Oestrich-Winkel for the children after the end of her Germany tour in mid-May. "I was thinking of playing a few songs for the Ukrainian kids to cheer them up" - but then the idea evolved into a full, free concert for Ukrainian refugees and the Rheingau families who are currently hosting them.
The commitment is no coincidence: Sonia Rutstein has family roots in Eastern Europe and so she collects donations through livestream performances and the sale of merchandise items to support the work of "Voices of Children" and "Doctors Without Borders." "We are all challenged to find what we can give to our brothers and sisters whose lives are being torn apart by this senseless Russian invasion. My music has carried myself and many others over the years as a beacon of hope even in the darkest of moments. It is my natural desire to sing face to face with my Ukrainian brothers and sisters," says Sonia Rutstein.
This invitation was meant literally: together with the Ukrainian women Julia, Olga, Olja, Svitlana, Diana, Iwana, Sofia and Nataliya, she sang the Ukrainian peace song "Kalyna." "The song is more than 100 years old and was already the secret peace anthem in the Ukrainians' struggle for independence against Russia back then. It's about the snowberries that grow in our homeland and from whose fruits the women make wreaths," explains Nataliya Statzner. The Ukrainian, who had brought together the small choir for "Kalyna," came to the Rheingau many years ago and feels at home here. In her adopted country, too, she has a large network of Ukrainian friends who live in the region and have been campaigning for their homeland and the refugees since the outbreak of the war. Many supporters came from Nataliya's "network" and sold Ukrainian jewelry and scented hand-sewn stuffed animals during the benefit concert to support the refugees.
And there were many more helpers: Winegrowers from Oestrich-Winkel had donated wines and grape juice so that the concert guests could buy drinks for little money. The proceeds of 200 euros also benefit the refugees. The city of Oestrich-Winkel also supported the concert and not only made the Brentano barn available - as the official organizer, it was also the cooperation partner of the Idstein bookstore. The head of the city council, Aylin Sinß, and the parliamentary group leaders also came to the concert to show their solidarity. In addition, the First City Councilor Björn Sommer had asked for donations for the refugees at the Aldi supermarket and received them: 50 full bags worth 1,000 euros were handed over on the evening of the concert.
Conny Idstein herself had brought numerous books for the children, which were sponsored by her customers in a campaign. For each book purchased, the bookseller also made a contribution to a piggy bank for further children's projects.
So the benefit concert had become a special event. Not least because of the touching music by Sonia Rutstein: In addition to the highlight "Kalyna," she sang the Ukrainian national anthem at the beginning of the evening.
© by Rheingau Echo
Artist guest
"SONiA disappear fear" in Jägersruh
Frank Mertel 05/01/2022 - 08:19 am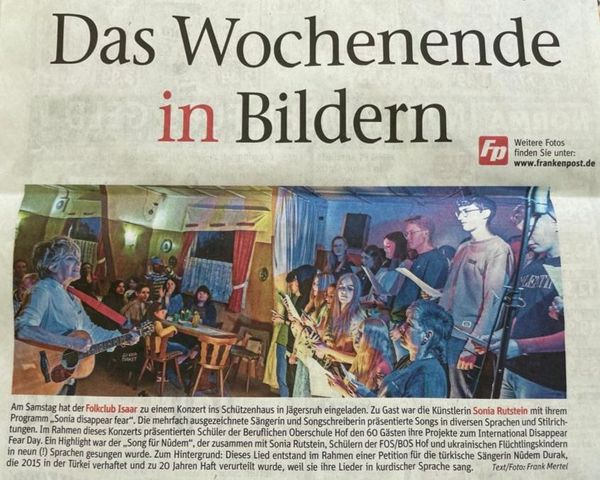 On Saturday evening, the Folkclub Isaar invited to a concert in the Schützenhaus in Jägersruh. The guest was the artist "SONiA disappear fear" aka Sonia Rutstein.
The multiple award-winning singer and songwriter presented songs in various languages and styles. As part of this concert, students from the vocational high school in Hof presented their projects for International Disappear Fear Day to the 60 guests.
A highlight of the evening was the "Song for Nûdem", which was sung in nine languages by Sonia Rutstein together with students of the FOS/BOS Hof and Ukrainian refugee children. Background: This song was created as part of a petition for the Turkish singer Nûrem Durak, who was arrested in Turkey in 2015 and sentenced to 20 years in prison because she sang her songs in Kurdish.
Rock and Blues with Sonia Rutstein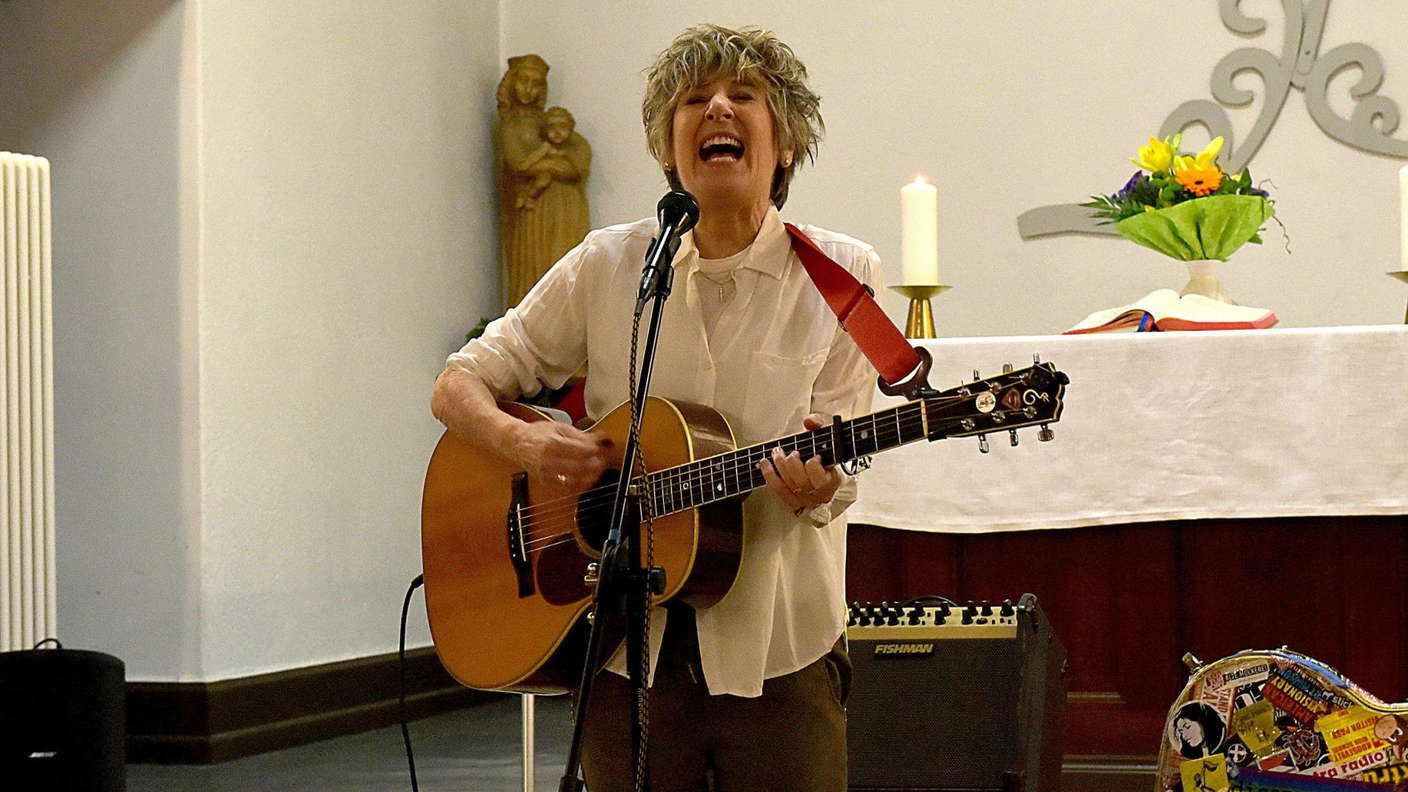 Sonia Rutstein sometimes lets out the rocker in her. © Heiner Schultz

The concerts in the Vitos chapel have started again. Singer-songwriter Sonia Rutstein appeared as a guest for the fourth time. The lively American with a sunny disposition put the full house in the best of moods.

It was the 302nd »Musik bei Vitos« concert ever, emphasized organizer Rainer Römer, and the regular audience was pretty much all there. Sonia Rutstein, Bob Dylan's cousin, is a thoroughbred musician who, despite winning the industry's highest accolades, starts out humble. Her albums have sold millions of copies and she has played with the likes of Emmylou Harris, Bruce Springsteen and Pete Seeger. She also became known with her band »Disappear Fear«.

In Gießen she sings and plays the guitar, quite unspectacularly and without any effort. She starts with a nice rock title, catchy and happy, the lyrics remain unclear, the guitar is too loud and too similar to her bright voice. With "Me Too" she then makes it clear that her songs are very topical.

She convinces with great musical originality and perfect technique. Apart from the fact that she knows how to set the mood with the guitar when she lets out the rocker in her. It is particularly attractive when she sings softly, her voice becomes rough and she responds to someone very sensitively ("So scared of what the world will think of me"). She is also great at telling stories ("Today's better").

She sings John Lennon's "Imagine" in a self-confident, distinctive version, and it seems as if she gives the familiar lines current meaning: "Imagine there's no hell below us, above us only sky", the audience sings along - a heartwarming moment.
Rutstein is really good with demanding texts. For "By My Silence" she set a text by Martin Niemöller to music, "When the Nazis came for the communists", and made an urgent statement of clear partisanship out of it: "I didn't ask till their sorrow turned into mine", a topic to which she as a Jew has a special connection. She is also politically active and includes a song about a woman who was imprisoned for singing in Kurdish, and she sings part of it in Kurdish. Once she sings »This Land Is My Land« to the piano, but in a minor key - Rutstein can and likes to do it differently.

Stylistic command

Great highlights are »Consent« as well as the poetic love song »Princess and The Honeybee«, which she realizes in a multifaceted way. And she really comes out with groovy rockers ("I Had A Baby"). She pulls something like that out with dreamy stylistic confidence and an incredible feeling that - it's a blues - is transferred to the audience.

Sonia Rutstein is beaming, is at peace with herself and comes to visit every year ("I like to play in Germany, it's become something like my second home") and immediately follows up with a rock title that sends the audience into ecstasy and even makes them clap along: more would not be possible.

After the final applause, she sits down at the piano and sings »What a Wonderful World« very softly and sensitively with the audience. It's a wonderful evening.
SONiA at Maximal Rodgau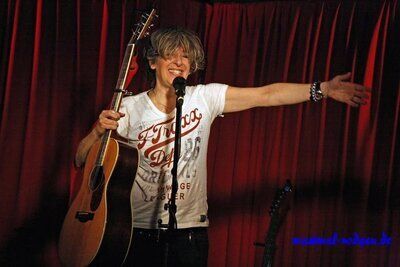 SONiA, singer-songwriter from Baltimore/USA, will be on a major tour of Germany again for the first time in spring 2022. On Friday, April 23, at 8 p.m. (admission 7 p.m.) she will be a guest at the Maximal Rodgau-Jügesheim. In her songs, the singer and songwriter deals with social issues, and her motto "disappear fear" is still relevant. SONiA's commitment goes far beyond writing critical lyrics. She supports a non-profit foundation that supplies musical instruments to children in war-torn countries. From her songs, which are downloaded directly from the Internet, 18 percent of the sales go to Welthungerhilfe. During the pandemic-related break from touring, she has released a comprehensive retrospective of her work called "Love Out Loud," and the composer's cut of her first musical "Small House No Secrets." Now she's on tour again and of course - as she has been for many years - also a guest on the live stage in Rodgau. She came to Maximal for the first time in 2011 at the invitation of then chairman Heinz Haberzettl, and the cultural initiative is a very special place for SONiA: "As the first music club I played in Germany, the Maximal for me is what the "Stone Pony" is for Bruce Springsteen – always a magical place." Her double album "LiVE at MAXiMAL" (2016) was created entirely at Maximal and was nominated in the first round for the Grammy for album of the year in the folk category at the time. All the songs on the CD are recordings of her 2014 concert at the Maximal - with live applause from the guests at the time. Klaus Herrmann, who was a sound engineer at the time, mixed the sound recording. The CD cover photo was taken by Maximal member Klaus Faust and was also taken at the Rodgauer Maximal. It is a long and intense connection - you can say that out loud.
© by Rhein Main Verlag
Poetic, political, stirring: SONiA live in Birkenried
The American singer-songwriter "SONiA disappear fear" from Baltimore/Maryland is making a stop in Birekenried on Easter Monday, April 18th at 2 p.m. Her powerful message is "Truth." Her goal is "peace and equality" - and as her band name says: "disappear fear."
In the USA, SONiA has shared the stage with many greats from the American folk scene. She sang with Joan Baez, Pete Seeger, Emmylou Harris, the Indigo Girls or Peter, Paul & Mary. Her lyrics are often political, but also tell about love and her life in Baltimore. Musically, the songs are often a stylistic crossover of folk, rock, blues and even pop. She has sold more than a million units of her songs sung in Spanish, Hebrew, Arabic, German and English with many styles from blues to oriental to Americana and protest songs. On April 18th, her wonderful piano version of the classic "What A Wonderful World" is sure to touch hearts again. SONiA quickly captivates the audience and deliberately switches between soulful and committed songs. Hardly anyone has mastered it like the multiple Grammy-nominated singer-songwriter, whose cousin is none other than legend Bob Dylan.
© GZ Extra
Folk music with a modern twist
US singer Sonia makes a guest appearance in the Steinhauskeller - bringing two new albums
American Sonia Rutstein was unable to perform in Besigheim for two years because of Corona. The reunion with their fans on Saturday evening in the Steinauskeller was all the more joyful. Town music director Roland Haug had invited and numerous people followed his invitation.
Who needs a whole band when they can have Sonia Rutstein? The American manages to make a room ring with her energy, her voice, the guitar and her nature alone. She proved this once more in the Besigheim Steinhauskeller in front of around 40 visitors. Already two years ago she, who has often been a guest in the half-timbered town, should have been here to perform. But Corona-related entry regulations and various other restrictions prevented this. Concerts are now possible again. City music director Roland Haug and Sonia used this opportunity to see the Besigheim fan community again. And in fact, Sonia hasn't lost any of her vigor. "During the Corona break, I continued my education, especially in terms of breathing technique," she said. She was also delighted to finally see her friends from Besigheim again. "I'm really happy in my heart to be able to play here again," she opened the concert with the song of the same name "With All My Heart." As always, she also played songs that she summarizes under the motto "Disappear Fear," as well as two new albums, "Small House No Secrets" and "Love Out Loud."
Pieces on difficult subjects
Stylistically, she remains close to her roots. These lie in folk rock, as it has been practiced in the USA for almost 60 years. However, as a cosmopolitan person, Sonia occasionally mixes in borrowings from other genres. So it never gets boring with her. The best example of this tradition is "Today's Better." The song is already 20 years old, but Sonia gave it a modern touch. A woman is sung about who, after many years of being caught up in norms, finally takes her life into her own hands. The power of the melody, combined with Sonia's strong voice, spills over the microphone like waves. The songwriter took up another sensitive topic with "Me Too." "Unfortunately, when it comes to human rights, we always take a few steps forward and then fall back into old patterns," she said. Flanked by the harmonica, her guitar sounded as rough as the composers of the peace movement standardized it in their hymns.
(by Tobias Bumm)
voc ep: 46 SONiA disappear fear
SONiA disappear fear is a world class composer and artist. SONiA's talent of writing in a variety of genres and languages has garnered her a vast following worldwide. SONiA's double CD LiVE at MAXiMAL was in the first round running Grammy for Folk Album of the Year. Looking at her touring schedule past and future one can trace decades of dedication to various humanitarian and animal rights' causes. Her 2019 CD By My Silence is in response to the rise of hate and anti-Semitism around the world, while her 2020 compilation Love Out Loud encourages people to embrace their identity while highlighting the ongoing push for LGBT equality. SONiA and the band are celebrating 25 years since the release of the Seed in the Sahara CD produced by E-Street Band keyboardist Roy Bittan, affectionately known as "The Professor". The show is Saturday, February 19, 2022 at the Gordon Center at 8p.m. (https://www.jcc.org/gordon-center)
Listen at Voices of The Chesapeake Bay.
Sonia Rutstein to Reunite with disappear fear Band for Feb. 19 Performance at JCC

Concert connects with International Disappear Fear Day commemoration
by Lindsay VanAsdalan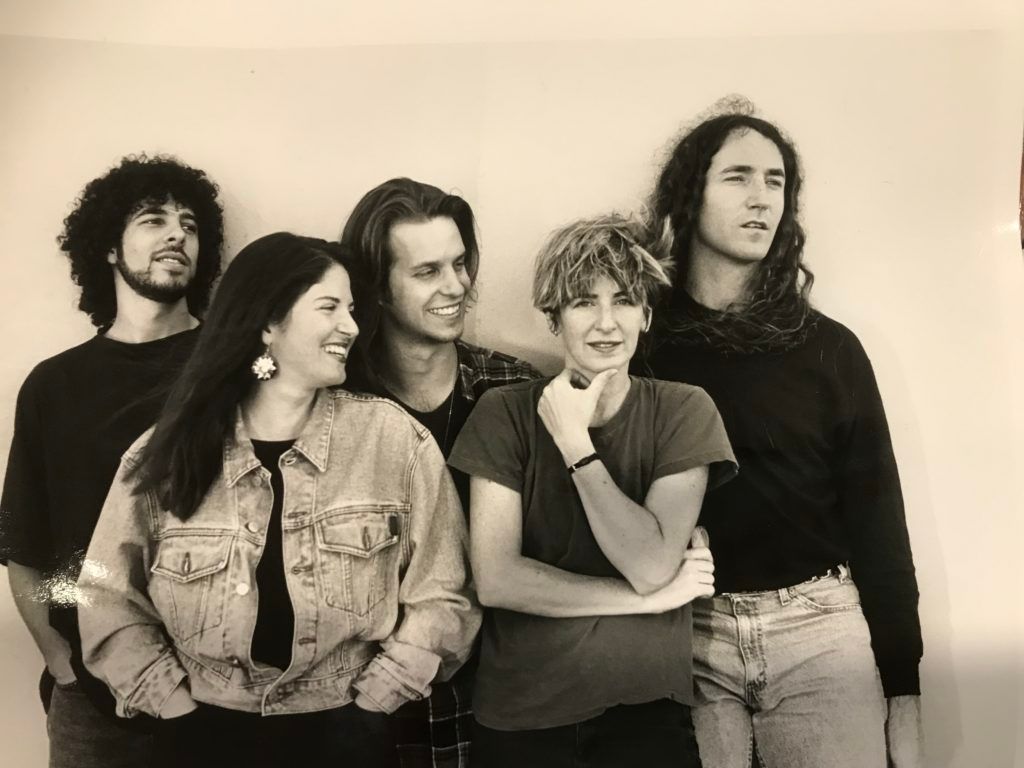 Disappear Fear 1995; Back row, L to R: Marc Lawrence, Brian Simms, Chris Sellman (performing on Feb. 19); Front Row: CiNDY and SONiA Rutstein | Provided photo
Sonia Rutstein, a Jewish LGBTQ+ singer from Baltimore who has performed in more than 20 countries, is reuniting with her band for a dynamic performance.
The band's name, "SONiA disappear fear" came about from a phrase Rutstein coined when she worked at the Baltimore Center for Victims of Sexual Assault during the 1980s.
"When you're assaulted, you lose all sense of your own power," she says. "I thought (that) if you could 'disappear fear,' you could own your own choices again and become whole … what you can have then is love between people."
Rutstein hopes her music makes people feel less alone, particularly in light of International Disappear Fear Day (Feb. 18), which was created to inspire dreams of a world without these pressures.
Catch Rutstein performing several new songs with her longest-running touring band following the 25th anniversary of their album "Seed of the Sahara" on Feb. 19 at The Peggy and Yale Gordon Center for Performing Arts on the Rosenbloom Owings Mills JCC campus.
Learn more about the music of SONiA disappear fear and Rutstein's use of music to embrace humanitarian causes.
Q&A
What led you to become a musician?
I love music. I was very affected by it, and I had the opportunity to see Louis Armstrong Satchmo—when I was about 5 ½. My great aunt took me out of kindergarten, and we went down to the Flower Mart, which was downtown by the Washington Monument, and he was doing "Hello, Dolly!" It was on an outdoor platform stage with a whole band, and I'd never seen anything like it. It's the first time I ever actually had heard something on the radio and got to see it live. You know, it's not just like teeny little people in the radio, which is what a lot of kids think. It's an actual human being that's doing this, and there it is. He was playing his trumpet and everybody was loving it, and I was loving it. It was a beautiful day and I was like "that is what I want to do."
How would you describe the music you create? Who are your biggest influences?
When I describe my music, I don't really describe the music so much (as) the way it sounds. I describe the people who have influenced me in terms of what they've been able to make happen with their music—like Odetta, whom I sound nothing like, or Stevie Wonder or Louis Armstrong. I would say too like Vincent Van Gogh, but to my music—to be so heartfelt that you can feel it. You feel it and you know you're not alone.
How has being a part of the Jewish and LGBTQ+ communities influenced you as a musician?
It makes me very much aware of alienation, which makes me aware of trying to be inclusive and trying not to be reclusive after all this pandemic stuff. It's easy to just cocoon, but it's important I think that we come together.
Why has it been so important to get involved in humanitarian causes personally and through your music?
It does seem like an organic decision to make. In Judaism, we think perhaps—this is my interpretation—of our hands as being the extension of God's hands. With that opportunity, it seems quite natural to choose to heal problems that I can. I'm not a doctor; I'm not a lawyer. I'm not smart enough or a rabbi, but I can sing and I can touch people. We can feel something really powerful together.
Tell us about International Disappear Fear Day. What is the goal with your project?
Wouldn't it be great if the world could be that way? That it would empower us. Eighteen is the number of "chai." When people wear (the chai symbol), it's the eighth and 10th letters of the Hebrew alphabet and makes for that expression like L'chaim, and so I thought "to life," you know?
Three out of four of us have the same birthday (Rutstein, her late bass player Dominic Vigliotti and sound technician Walter Harley were all born Feb. 18.)
(During) the earlier part of my career, a lot of what my music was about was that love is love regardless of your plumbing—whether you have indoor or outdoor (women or men). Some of the, shall I say, the good fights are being won, which helps push me into places where there is still a lot of man's inhumanity to man.
To find more upcoming tour dates for SONiA disappear fear, including an upcoming cruise through Alaskan waters, visit soniadisappearfear.com
© by Baltimore Style