So everytime I think our world could not get any crazier it does.  Today SONiA decided to make her patreon zoom concert open to the public but unfortunately before she started someone flashed a swastika  and then once she started singing several people tried to interrupt until the host was able to kick them out. Unfortunately this meant that he had to close the meeting so no one else could join in.  It's really a shame that we have a world that is so mobilized by hate that even a simple act of sharing music is disrupted. I woke up this morning encouraged that our Senate and Congress finally seemed to be getting something done that would actually benefit your average American and now once again I wonder what kind of world we are living in. 
Last week Sonia and I were with family and I was crushed when I realized that some of my favorite people in this world are so far from me politically. I truly think that whatever someone believes should always be respected and I have always welcomed political discussions with my young nephews and nieces but there no longer seems to be an opening for discussion. Some are very far left and refuse to  hear anything that encourages compromise. Some are so far right that they are still defending the last President and cannot even bring themselves to condemn January 6th.  It truly breaks my heart that the world I have worked so hard to try and make better for the next generation will not be what happens.  I cannot imagine how Sonia and I could ever host these young adults at the same family get together let alone hope that they can work together to make things better.  When did the world get so crazy that people we loved could attack each other on Facebook or people we don't even know can interrupt a zoom session. 
Today is a Jewish holiday and yet Israel and Hamas are bombing each other a few more times before a supposed cease fire takes effect, Russia is bombing Ukraine, China is threatening to bomb Taiwan and here in the United States there was another killing.  Where does it end.  If individually we cannot even talk to each other civilly how can we expect the killings to stop.  I woke up this morning feeling hopeful and now I wonder if I will be able to stop crying.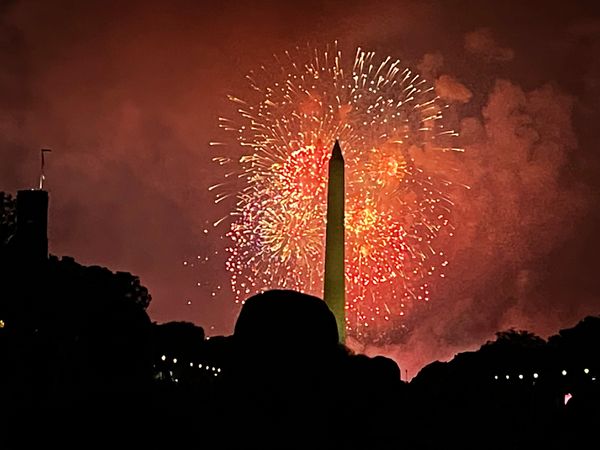 It's the 4th of July Independence Day here in America and yet I am at home sick with Covid which somehow seems fitting since the world has somehow stopped feeling very free.  War is raging in Ukraine and here in America every channel is filled with stories of shootings or protests. The Supreme Court no longer seems like a judicial branch but a partisan branch of legislation. The legislature seems unable to get anything done unless it's approving funds for war.  And while I believe we should be standing up for Ukraine I don't understand why it got this far.  Where was the leadership when Putin was posturing for years for this day.  I would love to be able to lay blame on one person, one party even, but that's not the case.  Our legislature has failed us for way to long.  If we continue to vote in people that are so partisan that they vote only along party lines forgetting about the Americans who voted for them, then there will truly be no independence to celebrate. We force people to retire from companies all the time because of age and yet we have elected officials that die in office well after they are fit to be there.  Few and far between vote their conscious outside of their party and when they do their party votes then out.  Those few true American representatives should be celebrated. We need voices that are willing to speak out and tell the truth.  I got an email yesterday from another friend that is thinking about moving out of the country to retire.  While I understand the frustration with our political system right now I won't be leaving.  This is my country. This is your country. It's time we put people in office that understand it belongs to all of us not the few hundred in Washington that are holding us all hostage with their votes.  This year as you celebrate this 4th of July I hope you will make a plan to vote for a change in Washington, it's time to clean out the house and Senate of people who can not find a way to do their jobs.
Honoring this Memorial Day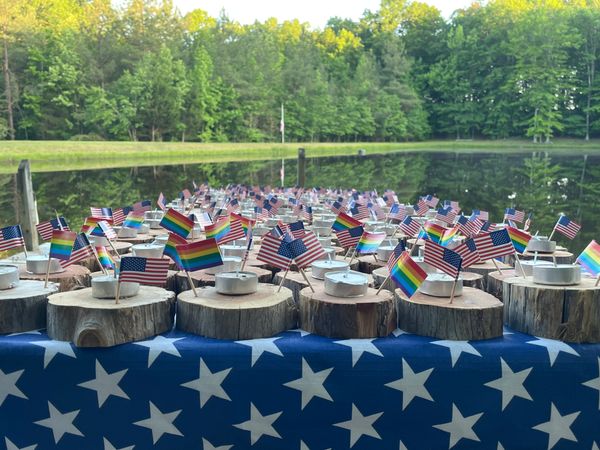 Sonia and I just returned from one of the most special Memorial Day celebrations I have been honored enough to attend.  I grew up the daughter and granddaughter of Marines so I was taught to honor and respect those that had served and even as a small child we would visit cemeteries to place flags on the graves of those that had given the ultimate sacrifice for their country.  But for the last several years before Covid and this year Sonia has performed at the Virginia Woman's Music Festival and their Memorial Service on Sunday night to close the festival is one of the most powerful memorial services I have ever witnessed.  This year was somehow even more special. I am not sure if it's because we have been apart and we were finally able to be together and share, or if it's because Sonia and I just returned from being with Refugees from Ukraine and we're blessed to watch young people join her in singing their National  Anthem on foreign soil with so much pride and it made me extremely aware of the fact that I stand on American soil and watch my flag being lowered in honor of those that have served.  This festival was created and founded by woman who served this country at a time when they had to hide who they were or be dishonorably discharged so they created a safe space to be themselves and share who they love.  A few years ago Sonia was honored by a joint coalition of the US Military for her humanitarian efforts during "don't ask, don't tell" and no award she has ever been given has meant more to her because the soldiers told her what it meant in their lives to be able to wear a uniform and be able to love out loud.  Today we are facing a backlash against LGBT again and I wonder how long it will be before people start to go after those serving our country.    I love this country and I wish we did not have to ever go to war but I have the utmost respect for those that are willing to do so, so that the rest of use can sit in our homes here in the United States of America.   I remember how frightening 911 was, the thought that we were under attack on our own soil.  I had always believed that our pentagon and the skies around our Capitol were protected.  We let our guard down and too many lives were lost that day, but we have continued to let our guard down.  Yes we have put protections in place concerning terrorist attacks in the air and public transportation and critical sites but we have begun to allow hate speech again in the halls of congress.  Hate Rhetoric among our leadership is at an all time high, conspiracy theorist have been elected by some of our fellow citizens.  When did we stop caring about the United States of America and the very core values of what that stood for.  When January 6th happened I sat and cried as I watched the Capitol under siege. All of us saw the attacks and yet we have elected officials that our tax dollars pay telling us it was a peaceful demonstration. We allow them to spew hate and lie with no consequences.  Today as we honor those that have given the ultimate sacrifice as well as those that have served this country I hope we will all take a minute and reflect on where we stand and how important it is that we vote for people that will build this country up and not tear it apart.  Today I say Thank you for all of those that serve and have served in the Military as well as on the front lines of this current pandemic. I am so grateful to all of you. For my grandfather who was born Canadian and became the proudest American I knew, and who's son went on to be a Marine and raised me to love this country and who inspired Sonia's song Me'Too that she sings every year at the Memorial Day service I especially want to say THANK YOU.  For the woman that started and continue to make Camp Out a safe and honored space I cherish our time there and today and always I thank you for your service.  See you next year.
http://www.campoutva.com/music-festival.html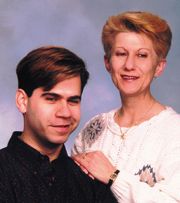 As most of you know, while SONiA and I have been on tour, we have tried to do our part to help with the refugee situation being caused by the war in Ukraine. We had the privilege of meeting some incredible people both that are hosting refugees and the displaced citizens of Ukraine.  A little over a week ago Sonia performed the Ukrainian National Anthem with several young Ukrainians, and I can tell you it was one of the most moving experiences I have ever had. There is so much pride in these people who are facing unfathomable atrocities and truly do not know when or if they will have a home to go home to. I am humbled by what I see in the strength of these mothers and children. Thursday we will have another concert, this one specifically for families of Ukrainians and their hosts, and we will deliver toys and other items that our fans have generously donated along the tour. It is so little but it's what we can do. We have raised money too for organizations on the ground, one of which does art therapy for children of war.  We know how important this effort is and we are reminded that every year on February 18th we try to imagine a world without fear on International Disappear Fear Day, and many of these projects that the Ukrainian children are working on now to help them process this war will be featured next year.  All of us should try to imagine what a world could be that was not full of fear. Fear of War, Fear of a Hunger, Fear of Climate Change, Fear of Poverty, Fear of Discrimination…… I for one wish I could. But the headlines every day remind me that we are a long way from that day.  I personally don't know what it's like to not have food or water, I have felt the fear of bombs in Israel and I have seen too many deaths as a result of discrimination of LGBT from suicide as well as hate crimes.  I celebrated like so many when we got equality for marriage and when people were allowed to proudly serve their country who were LGBT. But now I see a rise in hate crimes and laws being passed in States which seek to force people back in the closet. How many lives will be lost. Ukraine is under attack by Russia, but in the United States we are under attack by our own elected officials. I am not sure what is worse. I do know that the Ukrainians I have met will stand tall everyday and look forward to being back on their home soil.  I wonder if we will be able to stand as tall when we speak of our country in the coming years.
I love America, but right now I am truly ashamed of the leadership we have in State Houses and many in Washington DC. Our legal system no longer works and courts are full of lawsuits that are shameful. Cases are not based on merits but closed door deals and political appointees.  In the 1950s cases were often unfair based on skin color, and we have spent decades trying to undo the atrocities that took place in these rulings. How many years will it be before we realize that recent court rulings were not based on law but on money, or lobbyists or political bias? I truly don't know if I will ever have faith in our political or judicial system again. My heart is broken tonight, and as much as I wish it was the war that was breaking it, it's my country.