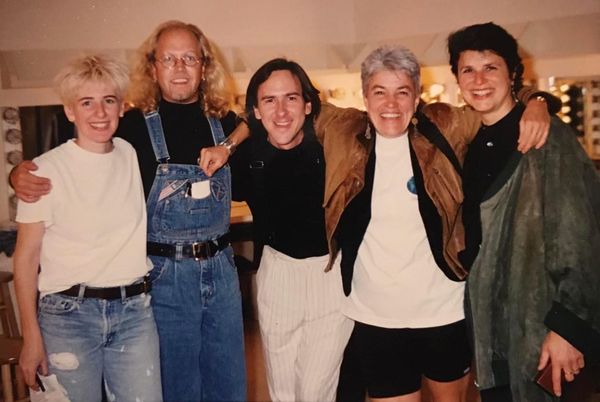 Today is International Women's Day and this year the theme was Embrace Equity.  It's shame that in 2023 we still have to be concerned about Equity between men and women in the work place but we live in a world right now where equity and equality are at risk for everyone.  Last month the State of Maryland recognized SONiA disappear fear for 35 years of her work for LGBT and officially recognized International Disappear Fear Day and yet just a few hours drive from Maryland the State of Tennessee was passing two bills that threaten the lives of LGBT.  Hate speech directly leads to hateful acts, we have seen this time and time again, PFLAG years ago ran ads to combat teen suicide and gay bashings in Project Open Mind which visually connected hate speech to these issues.  I met the band disappear fear for the first time in Knoxville, Tennessee and since I began working with the band and marrying Sonia we have spent a great deal of time in Tennessee.  It is a special place for us and it breaks my heart to think that a legislature in this State could pass these laws.  I don't know how someone dressing in Drag is a threat to anyone but I highly recommend that all of us start dressing in drag every time we cross the state line. In 1995 Opryland actually had a Gay Day Celebration which featured an act which was known to perform in drag Romansky and Phillips.  Recently someone posted a photo from that very gig on Sonia's page after she received the proclamation from the State of Maryland.  I truly thought that we had come so far.  In 1994 when disappear fear was on billboard charts there were no other artist that were OUT in their music. Pronouns were changed and partners denied. That's not the case today, the Grammys were filled this year with out performers who proudly acknowledge their spouses.  And yet here we are.  What a sad world we live in if we allow laws such as these to be passed and stand.  I for one will be in Tennessee every chance I get to try and challenge these laws and eventually see them overturned.  If you live in Tennessee please make your vote count the next time these hateful people are up for re-election.  Today is a day to celebrate women and I do so by honoring my mother and caring enough about all the mothers out there whose children will be harmed by these hateful laws.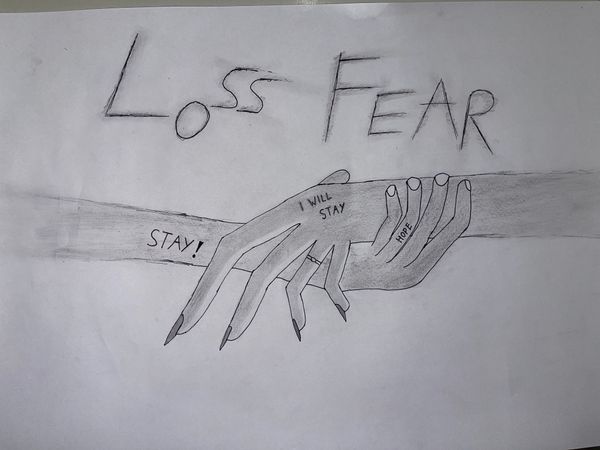 Happy Valentines Day 
I started this morning with a biopsy and then ran around collecting medical records but the sun is shining and I'm feeling great so I wanted to take a minute and wish you all a very Happy Valentines Day!
As you know it's been a crazy few years for me health wise but I am finally done with all my scans and biopsies for now and so far all is good. They are going to continue to monitor my lungs and I'll have to have more frequent mammograms but so far all looks to be benign.  As a friend and I discussed recently I'm just lumpy or as she said "Oompa Loompa".  A few months ago I could not have smiled at this but now I can and truly I kind of like the term.  I am lucky several of my friends recently got diagnosed with cancer so I don't take this for granted at all.  I know I have to be diligent with testing and grateful for every day that I feel good.
Saturday we will celebrate International Disappear Fear Day with a special concert in person and on line that will benefit the children of Ukraine and then Sunday we will board a plane for Germany. I am looking forward to being back on the road but will miss spring in Baltimore and hoping opening day for the Orioles is a great one.  I recently saw an Os fan in Oklahoma when a young band from Germany that Sonia and I have fallen in love with played at the Blue Door.  Greg thank you so much for hosting Hanne Kah I really hope you make it up this summer for a game.
I am hoping all of you took some time today to show someone you love them. Tonight Sonia and I will share valentines dinner with a very special man in our lives Lee Frank who we do not get to spend nearly enough time with.
Happy Valentines Day!
Love
Terry
January 1, 2023
Well it's 2023 and Sonia will be in the studio finishing 23 this week and the book is being edited and we start the next tour in February so hoping that it's a great year.  I want to thank everyone who has reached out following my last blog and let you know that whatever the tests show I am truly grateful for all of you.  In the meantime to keep my mind off doctors I'm trying to work so here I am.  Most of you reading this have all of Sonia's music and probably some other Merch as well but I wanted to let you know that we still have some sweatshirts and other Merch available and a lot of the items we won't be getting back in so if there was something you wanted now is the time to buy it while we have it and shipping is free.  We love seeing everyone in the love out loud shirts and hoodies so please keep sharing the photos.  This summer at festivals look for Sonia to be customizing shirts as we look to lessen our carbon footprint.  In the meantime if you can't wait for her to draw on a shirt for you she is doing commissioned paintings.  She has two she is working on but then should have time for a couple more before we head off to Germany.  Hoping all of you have a wonderful New Years weekend and that 2023 brings love and laughs and great memories.  Lots of love and see you on the road. Terry
December 23, 2022
Happy Holidays I hope whatever you are celebrating this year whether it be winter solstice, Christmas, Chanukah, Kwanza or just time off that you enjoy it.  Two years ago on Christmas Eve we lost my nephew, then last year I got a phone call that I needed to see an oncologist, two days ago I got a phone call that I need to have additional scan for a new mass.  When I first got the call my first reaction was to think geez you couldn't wait til after Christmas.  But yesterday as I was scheduling my appointment I realized if I am going to get bad news this is exactly the right time.  I'm here with my family and I am blessed.  There are so many people in this world that will face the holidays alone and struggling with far worse than I can even imagine.  Right now as I sit writing this our friends from Ukraine are separated from their families because of an invasion of their country.  Sonia will teach guitar today via FaceTime with Arseni a young man who is currently a refugee in Germany while is older brother fights in Ukraine.  I pray that 2023 will be a year that brings peace to Ukraine and civility to this country and so many other places around the world.  Today in the paper was an article about the prime minister of New Zealand caught on an open mic making a rude comment about an opponent. The reason it made world news was because it was out of character for her, but the best part of the story was how she handled it.  She apologized and then worked with the other person to turn it into a fundraiser for charity. I love New Zealand!  Maybe 2023 will be the year we make it back there, Shiree and Colin we miss you.  
Our next stop though is Germany which has become our home away from home.  It was hard to be away from all our friends and family there when Covid hit.  It was especially hard to be away from Linda and Besigheim.  But one person from there became even more a part of our lives during Covid and that was Wiebke Dittmer who took over social media for us and truly helped keep us connected to the world as we learned new technologies to do live concerts from our music room.  As things open up again and live music tours pick up Wiebke has decided to get back to traveling to enjoy the music she loves and step down as our social media person. While we know we will see her on the road we will always be grateful for all the work she did to help keep Sonia and I and all of you stay connected. Thank you Wiebke.
I don't know what the years ahead bring but I do know that I am grateful that I have had the life I have had.  I have been to villages in Fiji, Mexico, Palestine, Israel, and to many other places to even count and everyone I have met along the way has impacted who I am.  I am forever grateful for the friends that I have shared time with, the music, cooking my mothers fruitcakes via FaceTime, sunrise birthday celebrations, penthouse cruising with friends, puzzles and cards.  I have a large family that grows larger everyday with new babies, my birthday book is getting hard to keep up with. I get to travel the world with the person I love and am still blown away by her songwriting.  I know her songs will be here long after I am gone and that brings me comfort.  It truly has been an incredible life and I thank you all for being part of it.  See you soon on the road in the meantime stay warm and enjoy this holiday season.
Love and peace Terry